Don't let technology get in your way. Thanks to the Cisco Webex Share you can put content on any display quickly and easily without requiring cables or a dongle. You can share your whole screen wirelessly with just one click in Webex Meeting or Webex Teams.
What you can achieve with Webex Share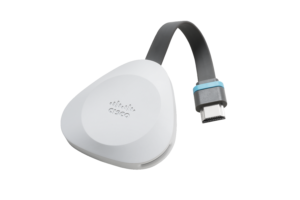 1
Plug it into any display and it will greet you, show you the calendar schedule and invite you to share content on the screen.
2
You no longer need to use cables or dongles in order to share content on a screen.
3
It allows each participant to share content, regardless of whether the team member is physically present at the meeting or joining from a remote location.